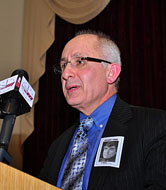 ISTANBUL — "Hrant Dink was murdered in order to avenge Talat Pasha's murder," Turkish historian and sociologist, Prof. Taner Akcam wrote in an article published in the Taraf newspaper.
"Everything, and I mean everything, was organized in a way to seek revenge for the assassination that occurred in 1921. Upon his release after serving time in prison for his role in the McDonalds bombing of 2004 in Trabzon, Yasin Hayal, the person who planned Hrant's murder, spoke about Talat Pasha with his father. He asked his father, "Dad, do you know how Talat Pasha was killed?" Yasin Hayal himself knew a thing or two about it, and added, "Did you know that the man who killed Talat Pasha was never punished, and that he was released?"
"They killed him in front of Agos, on the street, in broad daylight, with a bullet to the back of his head. Why? Because through Hrant, they wanted to take Talat Pasha's revenge from the Armenians. Talat Pasha was murdered by Soghoman Tehlirian, a survivor of the genocide, in Berlin on March 15, 1921. Tehlirian approached Talat Pasha from behind and shot him in the head. On June 3, after a two-day trial, the assassin was found not guilty of murder," Akcam wrote.
"Let Hrant Dink be our symbol. Let him be our Martin Luther King. If they want to lock arms around Rauf Denktas and Talat Pasha, then let us form a tight circle around Hrant. Let Hrant and "1.5 million +1" be the thing that separates our republic from their republic,"the Professor concluded.