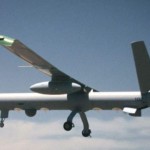 JERUSALEM — Israeli defense officials on February 26 confirmed a deal to sell Azerbaijan drones, anti-aircraft and missile defense systems for some $1.6 billion.
Azerbaijan's contract is with the state-run Israel Aerospace Industries. Israeli defense officials, speaking under condition of anonymity, said the deal had been in the works for some time and was not a response to Iran's nuclear development program or recent attempts, allegedly by Iranian agents, to kill Israeli diplomats in India, Thailand, Georgia and Azerbaijan.
Israeli media reported late last year that there was a deal for Israel to sell 60 drones of two types to Azerbaijan and that in September 2011 there were discussions about joint Israeli-Azerbaijani construction of drones with missiles.
Also in September 2011, an Israeli-built drone with Azerbaijani Air Force markings was shot down over Nagorno-Karabkah by Armenia forces.
Iran's Foreign Ministry earlier this month accused Baku of allowing Israel's spy agency Mossad to operate in Azerbaijan, which shares, including the Naxchivan enclave, a border with Iran more than 600 kilometers long.
The news of Israel's sale of the military equipment comes as tensions over Iran's nuclear program are reaching critical levels.