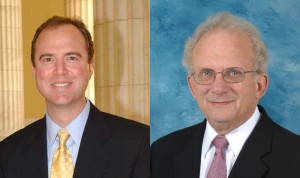 WASHINGTON, DC — Rep. Adam B. Schiff (D-CA), lead sponsor of the Armenian Genocide resolution, and Rep. Howard Berman (D-CA), ranking member of the House Foreign Affairs Committee, met with Georgian president, Mikheil Saakashvili, on Thursday to discuss the bilateral relationship between the United States and Georgia and to ask the president to focus more attention on the ethnic Armenian region of Samtskhe-Javakheti, which borders the Republic of Armenia. Economic opportunity, education, and development in Samtskhe-Javakheti have lagged behind that of predominantly Georgian areas of the country.
During the meeting in the U.S. Capitol, President Saakashvili expressed a willingness to work with Schiff and Berman to direct more resources to Samtskhe-Javakheti and said that he would fully support additional American assistance to the region.
"I was very pleased with the discussion we had with President Saakashvili," Schiff said. "He was unhesitating in expressing support when we asked for additional efforts to aid Armenian-Georgians."
"I will continue to fight for the fair treatment and equal rights for the ethnic Armenian community in Georgia," said Howard Berman, the Ranking Member on the House Foreign Affairs Committee and a longtime champion of Armenian causes.
President Saakashvili has been in Washington for several days meeting with a variety of senior American officials, including President Obama, Secretary of State Hillary Clinton and congressional leaders.