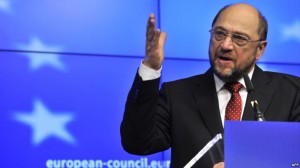 ZURICH — Following a meeting Tuesday with Turkish Minister for the EU Affairs and Chief Negotiator Egemen Bagis, president of the European Parliament Martin Schulz told media that the minister should face his country's genocidal past.
"My best advice to Turkey will be to come into terms with its own history as only in that case it will be possible to build the future of the state," Schulz said.
In his words, his homeland, Germany, too had complicated history but it treats its history with sensitivity till now.
"As German I know also the history of my own country and the role the imperial army of Germany played in previous time. Nevertheless, my recommendation to the Turkish authorities is today the same as it was in previous times. You should face your own history and you should allow independent inquiries about your history," Schulz said.
"You must allow free investigations connected with what happened in 1915 and if the investigation shows that what happened in 1915 is genocide, you should admit it," Schulz said.
Schulz also said that he "respects" the French parliament's recent decision to make it a crime to deny that the 1915 mass killings of Armenians in the Ottoman Empire constituted genocide.
"I know there are many people in the European Union who share the views of members of the French parliament," he added.
Bagis is currently under investigation in Switzerland on whether he should face charges for recent statements he has made is which he denies that the Armenian Genocide took place.
The Prosecutor's Office of Switzerland's Canton of Zurich launched an inquiry against the Turkeish Minister for EU Affairs.