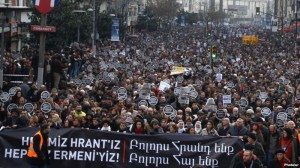 ISTANBUL — Thousands have marched in Turkey to commemorate the fifth anniversary of the murder of Turkish-Armenian journalist and Agos newspaper editor Hrant Dink. Angering Turkish nationalists with his outspoken position that the 1915 massacre and deportation of as many as 1.5 million ethnic Armenians as the Ottoman Empire collapsed constituted genocide, Dink was shot dead outside his office in Istanbul on 19 January 2007.
Chanting "Murderer state will account for this" and "Shoulder to shoulder against fascism," an estimated 20,000 people marched from the city's central Taksim square to the offices of "Agos" newspaper. They left red carnations and lit candles there.
The crowd was led by activists carrying a large banner that read, in Turkish and Armenian, "We are all Hrant Dink, we are all Armenians."
Dink, who championed Turkish-Armenian reconciliation, was shot dead in broad daylight as he left the "Agos" offices on January 19, 2007. His self-confessed murderer, Ogun Samast, was arrested several days later and sentenced to 23 years in prison last July.
Earlier this week, an Istanbul court convicted another Turkish ultranationalist of instigating the murder. The man, Yasin Hayal, was sentenced to life imprisonment.
Nineteen other defendants were acquitted of a charge of being part of a terrorist group. The court ruled that there was no wider plot to kill Dink, who had angered nationalists by referring to the 1915 Armenian massacres in the Ottoman Empire as genocide.
Dink's family and its lawyers are not satisfied with the verdict, saying that the Turkish authorities have failed to investigate the collusion and negligence of state officials in the murder. The "Agos" editor's widow Rakel and children also took part in Thursday's demonstration.
"They surrounded us with lies. It has been like this for five years and they finally gave us two people and asked us to be content with them," journalist Karin Karakasli told the crowd, according to the AFP news agency.