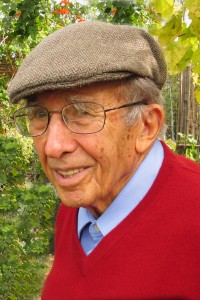 LOS ANGELES — A requiem service will be held on Sunday, Dec. 11, at 4 p.m. for documentary filmmaker Dr. J. Michael Hagopian on the one-year anniversary of his passing. Immediately after the dareleets service at St. Peter Armenian Church in Van Nuys, which will be officiated by His Eminence Archbishop Hovnan Derderian, there will be a one-hour program in the church hall celebrating Hagopian's legacy, followed by a light reception.
The memorial program will touch on Hagopian's numerous activities and his huge legacy as a filmmaker, humanist and Armenian visionary. Hagopian made 70 educational films and documentaries exploring the diverse cultures and geography of the world during his long career, an accomplishment which earned him an invitation to be a member of the Explorer's Club of New York and Adventurer's Club of Los Angeles. During the second half of his life he spent 40 years filming the testimonies of Armenian Genocide survivors and eyewitnesses. He also was instrumental in establishing the Narekatsi Armenian Chair at UCLA in 1969 and was one of the community leaders who founded the City of Thousand Oaks in 1964. With four other Armenian activists he created the Armenian Film Foundation in 1979.
Hagopian's last major public act was in April 2010, when he signed an historic agreement with the USC Shoah Foundation Institute to digitize, index and disseminate the 400 interviews he had filmed in 10 countries. He passed away on December 10 of that year, at the age of 97, his legacy secure.
A four-minute mini-documentary about Hagopian made by Councilmember Paul Krekorian's Director of Special Projects, Hrag Yedalian, will be screened during the memorial program, and composer Alan Roubik will perform 2 piano pieces – "Spirit of Armenia" and "The March" – that he composed for Hagopian's 2003 documentary Germany and the Secret Genocide.
The memorial program is organized by the Armenian Film Foundation and the Hagopian family. The public is invited. There is no charge. For further information, call 805-495-0717.