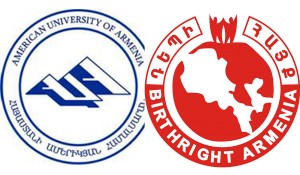 A partnership agreement was signed between the American University of Armenia and Birthright Armenia according to which Birthright Armenia and the AUA's School of Business and Management will join forces to offer a unique educational package to Diaspora Armenians desiring to pursue an MBA degree in Armenia. The agreement will promote the MBA program among the Diaspora communities and further expand and enrich the range of long-term immersion and study opportunities in Armenia. The memorandum was signed by Dr. Bruce Boghosian, President of the AUA, and Mr. Sevan Kabakian, Country Director of Birthright Armenia.
Thanks to this partnership, students will benefit from the full range of services in which each partner entity excels. Interested students would enroll in the AUA MBA program that meets international standards and is accredited by the US based Western Association of Schools and Colleges. During the two years of their study, students will also benefit from many exciting opportunities that Birthright Armenia offers, including full country and language immersion, part-time community service work, one round-trip airline ticket, and accommodation within its network of local host families.
According to Mr. Kabakian, "With this collaboration, we are complementing each other's areas of expertise and creating an exciting product which is a winner for the University, for Birthright Armenia and for all the students. It's a well-rounded study abroad experience that we will be promoting." Mr. Eric Guevorkian, Interim Dean of the School of Business, stated that the agreement provides a viable option to the needs of many Diaspora students. It affords them the opportunity of studying for an English language, accredited MBA degree while experiencing and immersing in Armenia. Furthermore, Birthright Armenia's community service experience would count for the internship requirement of the MBA program. Mr. Kabakian added "We are embarking on a collaboration that will hopefully be expanded to other degrees in the future. Study abroad no longer needs to be limited to a few European capitals."
Interested parties should contact Birthright Armenia at [email protected] or the AUA at [email protected] and [email protected].