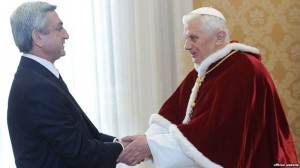 VATICAN CITY — Armenia's Christian heritage and good relations between the Holy See and the Republic of Armenia marked the meeting, on Monday, in the Vatican between Benedict XVI and Armenian President Serzh Sarkisian.
"In the course of the cordial discussions, and having expressed great pleasure at the good relations that exist between the Holy See and the Republic of Armenia, the parties exchanged views on the role that the Armenian Apostolic Church and the Catholic Church play in society, and the contribution they both make to the common good," the official Vatican Information Service said in a statement.
"Attention also turned to the importance of the country's Christian heritage, and of the commitment to educating the new generations in fundamental values," read the statement.
Sarkisian's press office, for its part, said the president and the pope discussed "the large role in the society" played by the two churches. "They stressed the importance of bringing up generations in the spirit of Christian values," it said in a statement.
Pope Benedict's predecessor, John Paul II, visited Armenia in 2001, paying tribute to "the glorious history of Christianity" in a country that was the first to adopt it as a state religion in 301. He also signed a joint declaration with Catholicos Karekin II that clearly stated the killings of 1.5 million Armenians in the Ottoman Empire as "the first genocide of the 20th century." Unlike John Paul, Benedict has refrained from using the word genocide.
Incidentally, the pontiff, previously known as Cardinal Joseph Ratzinger of Germany, chose the name of Pope Benedict XV who famously raised his voice in 1915 in defense of "the sorely afflicted Armenian people brought to the brink of annihilation" in Ottoman Turkey. John Paul presented the Armenian Genocide Museum in Yerevan with a picture of Benedict XV when he visited the adjacent memorial to the massacre victims in September 2001.
Sarkisian also had a separate meeting at the Vatican with Secretary of State Cardinal Tarcisio Bertone and visited the Armenian Catholic church of St. Nicholas in Rome during a working trip to Italy and the Holy See.