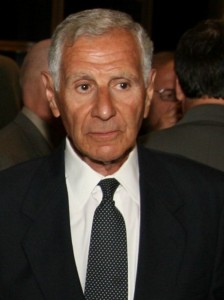 LOS ANGELES — Former California Gov. George Deukmejian on Jan. 27, 2012, will receive the Metropolitan News-Enterprise's "Person of the Year" award for 2011.
Also being honored at a black-tie event at a private club in downtown Los Angeles will be California Chief Justice Tani Cantil-Sakauye.
The Metropolitan News-Enterprise provides intensive coverage of the legal profession, courts, and politics.
MetNews co-publisher Jo-Ann W. Grace, in announcing the awards, noted that 2011 marks the year that ground was broken for a new courthouse in Long Beach named after Deukmejian, who served as California's attorney general in 1979-83 and governor in 1983-91.
It was also the first year of Cantil-Sakauye's administration as chief justice, she noted.
Deukmejian's service as governor, she remarked, "is recalled by persons of both parties with reverence."
His administration, Grace said, "was marked by an overall excellence in judicial appointments."
The co-publisher recalled that when Deukmejian took office as governor in 1983, California had a $1.5 billion deficit. Slashing spending, Deukmejian within two years created a $1 billion surplus, she pointed out.
Former Los Angeles District Attorney Robert H. Philibosian, now of counsel to Sheppard Mullin, will for the 15th time emcee the 24th annual event.
Philibosian commented:
"I'm delighted that Governor Deukmejian and Chief Justice Cantil-Sakauye are being honored as co-persons of the year. This will be an excellent commemoration of the long association of these most outstanding public servants."
Philibosian recited that Cantil-Sakauye became Governor Deukmejian's deputy legal affairs secretary in 1988.
(Earlier, she was a babysitter for the Deukmejians' children.)
Deukmejian appointed her to the Sacramento Municipal Court in 1990; Gov. Pete Wilson elevated her to the Sacramento Superior Court in 1997; she was placed on the Third District Court of Appeal in 2005 by Gov. Arnold Schwarzenegger; and she was named as chief justice by Schwarzenegger last year. Conformed by voters in November, she took office Jan. 3 of this year.
Deukmejian, before becoming attorney general, served in the state Assembly and the state Senate.
Scheduled to present commendatory scrolls are Los Angeles District Attorney Steve Cooley, Los Angeles County Supervisor Mike Antonovich, Los Angeles County Sheriff Lee Baca, Los Angeles Superior Court Presiding Judge Lee Edmon, State Bar Governor Patrick Kelly, and Los Angeles County Bar Assn. President Eric Webber.