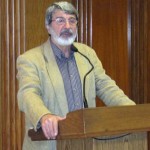 Kostandin Erznkatsi's 'Strange' Poem"
ANN ARBOR, MI — University of Michigan Armenian Studies Program presents a public lecture by Dr. Kevork Bardakjian on Kostandin Erznkatsi's 'Strange' Poem" titled "How to Petition for Poetic Grace?. The event will be held on Tuesday November 22, 2011 4.00 to 5.30pm, at the University of Michigan International Institute, room 1636 (1080 South University, Ann Arbor, MI, 48109).
Kostandin Erznkatsi (fl. 1295) is one of the glories of Medieval Armenian lyric poetry. This talk will delve into one of his poems, a vision, long considered by many as 'strange' or 'enigmatic.' Although many are the visions in the history of Armenian letters, Kostandin's is unique in that, unlike earlier ones, it is to date the first purely literary vision-poem. This talk is an attempt to pick out a model for the vision, to identify the mysterious, 'son-clad' youth bestowing poetic grace on Kostandin, and to look at the poem in the context of Armenian Christian – Islamic relations in Erznka (Erzincan) and the adjacent regions.
Dr. Kevork Bardakjian received his first degree in Armenian studies from the University of Yerevan, Armenia, and his D.Phil. from Oxford University, England. As a Senior Lecturer and Armenian Bibliographer at Harvard University from 1974 to 1987, he taught Armenian literature, language and culture. In 1987, he became the first holder of the newly-established Marie Manoogian Chair of Armenian Language and Literature at the University of Michigan, and founded as well as directed the University of Michigan Summer Armenian Institute in Yerevan, Armenia (1987-2010). From 1995 to 2007, he was Director of the Armenian Studies Program at the University of Michigan. Professor Bardakjian is the current President of the Society for Armenian Studies and has been an active member since his two consecutive terms in the mid-1980s in this same role. He has also served as a member of the editorial boards of various journals of Armenian studies. He has lectured extensively in the US and abroad on various aspects of Armenian literature, language, history and culture, and is the author of a number of books and articles.