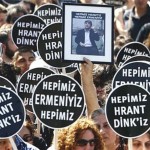 Telecommunication Company Fails to Present Crucial Evidence
ISTANBUL — Bahattin Hayal, the father of Yasin Hayal, a murder suspect in Hrant Dink trial, claims that his son was tricked by state officials into the murder and he will announce their names, reports Hurriyet Daily News.
He has withdrawn his initial testimony due to fears about his personal safety and expressed no confidence that the case will ever be resolved in its entirety.
"I am in full agreement with the Dink family's lawyers. I do not believe that the dark side of this case will truly come to light. I cannot look at the faces of the Dink family; it gives me pain," Bahattin Hayal told reporters after court hearings. Yasin Hayal is alleged to have instigated hitman Ogün Samast to assassinate Dink
According to Bahattin Hayal a high-ranking official in the southeastern province of Mardin has frequently transmitted messages to him through an intermediary, he said that he would share that information with the public in short order.
"Following the murder, many people who got involved in the incident, including [suspect] Erhan Tuncel, received bonuses," the suspect's father said.
In other developments with the case, Dink family lawyers emphasized that the Telecommunication Communication Presidency (TIB) had been requested by court several times to provide footage that was important for the determination of certain persons and for the identification of other perpetrators of the criminal organization. TIB has not yet provided any of the information requested by court which, according to the plaintiff lawyers, was an obstruction of justice. They reiterated the request for the records. "The final opinion as to the accusation cannot be presented as long as the evidence is incomplete", the lawyers said.
There are 63 days left before TIB is going to officially erase these telephone records. If TIB erased the requested records, the most crucial evidence related to the murder of Hrant Dink would be lost.