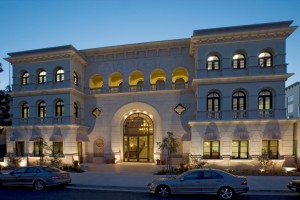 GLENDALE – The newly constructed three story imposing Center of the Armenian Society of Los Angeles (Iranian-Armenian Society) will be ceremonially opened on Saturday, October 8, with an inaugural gala banquet and program.
Located at 117 S. Louise Street in Glendale (between Broadway and Harvard Streets), the 33,000 square feet Center, which is worth over $10 million, has a beautiful rotunda with beautiful stairs going to the other floors. Of course, there are also two elevators going to the top floors.
There is a fine arts/concert room and a refreshment center on the main floor. The second story has a large hall capable of holding 600 people for concerts or events, and close to 400 for banquet with all the amenities. On the second floor there is also a bride and groom room and a reception area. The third floor has a library, reading room, conference and lecture room, business court area where ASLA manager's offices and maintenence room are located, as well as nine offices spaces for rent. This beautiful building also has open air balconies for sitting and enjoyment.
On Sept. 11. 2010, His Holiness Karekin II, Supreme Patriarch and Catholicos of All Armenians, officially conducted a blessing ceremony of the building in the presence of a large crowd and Glendale public and city officials.
The Armenian Society of Los Angeles was established 55 years ago in 1956 and had offices in different locations, the last one being on Brand Boulevard, which was purchased by the City of Glendale to make room for the Americana at Brand.
The Society has more than 1,000 members and a huge group of followers. ASLA has expanded its activities and services to the community over the years, as well as over the past years extended a helping hand to Armenia.
The organization has a Saturday School, a Choral Group, Youth Groups, Athletic Groups, Cultural Committee, Ladies Auxiliary. Library Committee, basketball and other sports teams, dance groups and organizes many cultural, social, athletic events. With the new center, the organization will continue to serve the community and especially the new generation in continuing the Armenian heritage and legacy.
Among the philanthropic activities, ASLA has the "Save a Child in Armenia" program which assists over 600 youngstesrs in Armenia since the devastating earthquake in Armenia. It also has an "educational Fund" which awards scholarships to worthy and needy high school graduates to continue their higher education.
With its new and imposing large Center. the Armenian Society of Los Angeles will continue and expand its mission to the community, the United States of America, and Armenia.
A Committee is diligently working to make the October 8 inaugural gala/fund raiser a success.
For further information about the gala banquet, please call the Caroline at the Society (818) 241-1073