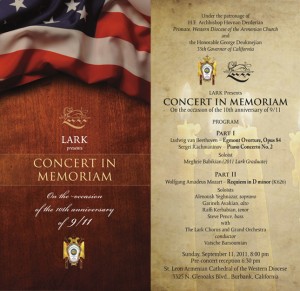 GLENDALE — Under the patronage of H.E. Archbishop Hovnan Derderian, Primate, Western Dioceseof the Armenian Church, and the Honorable George Deukmejian, 35th Governor of California, Lark presents a commemorative concert in honor of the victims of the attacks on 9/11, joining countrywide activities to mark the tenth anniversary of the fateful day that befell our nation.
Lark holds dear its position as a cultural organization, representing primarily those of the Armenian Diaspora, as one branch of the many differing Diaspora communities that make up Southern California. As such it is deeply embedded in the larger American fold and shares profoundly in its country's ups and downs.
Ten years ago, in the direct aftermath of the attacks perpetrated against our nation, Lark programmed a concert event to join in the country's collective mourning and raise funds to assist ailing families coping with the disaster. With the same spirit of solidarity and profound compassion for the continual reverberations of those events, our soloists, grand orchestra and 90-strong choir have gathered for another dedicatory performance.
The evening, a celebration of heroism, opens with Beethoven's Egmont Overture, a work of truly heroic proportions, as a testament to the country's resilience in the face of the first great tragedy of the new millennium. Rachmaninov's haunting meditation, Piano Concerto No.2 follows, performed by Lark's newest graduate Meghrie Babikian and the Lark Orchestra. The concert closes with a deep commemoration of those victims who lost their lives in the attacks, with Mozart's immortal Requiem, under the conductorship of maestro Vatsche Barsoumian.
The concert takes place on Sunday, September 11, 2011, 8:00 pm, preceded by a Pre-concert reception 6:30 pm, at the St. Leon Armenian Cathedral of the Western Diocese (3325 N. Glenoaks Blvd., Burbank, California).
We feel blessed to be able to partake in defining the American cultural landscape and offer this concert as a token of comradeship with all Americans who time and again have demonstrated the force of their indomitable spirit.
"For more information please call (818) 500-9997, or visit our website at www.larkmusicalsociety.com" Concert Organizing Committee