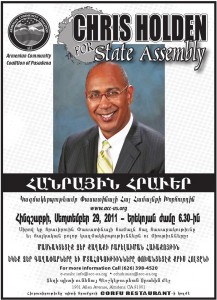 PASADENA — Pasadena City Councilman member and State Assembly Candidate, for the 41st district, Chris Holden will be meeting with local Armenian community on September 29th, 2011. The event is organized by The Armenian Community Coalition
During the meeting, Chris Holden will be addressing all questions and concerns we have for our community.
Currently District 3 Council member Chris Holden has begun his run for the State Assembly seat representing District 41. Though Mr. Holden has just begun his current campaign the Armenian Community Coalition has organized this event to get an early start at introducing Mr. Holden to our community. Chris Holden has been involved in the City of Pasadena as a city council member for over 22 years, having served as district 3 council member and has served as mayor to the city of Pasadena. Council member Chris Holden is ready for the challenge of the State Assembly and working to better serve the community.
The September 29th event starting 6.30 pm, will be held at Beshgotourian Center at 1901 Allen Ave Altadena CA 91001. All community members are invited to get to know Mr. Holden as an individual and as a candidate. Connect with and learn what Candidate Chris Holden thinks of current issues related to our community.
For more information contact us at 626-398-4520, or email us at [email protected].