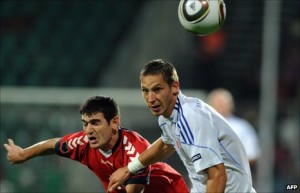 ZILINA, SLOVAKIA — Armenia scored four second-half goals on Tuesday to crush Slovakia and keep alive their hopes of reaching the Euro 2012 finals.
Slovakia dominated play in the first half in Zilina but paid the price for wasted chances by Napoli's Marek Hamsik and Liverpool's Martin Skrtel.
Armenia, who had started the day three points behind Slovakia in Group B, turned the tables in the second half of the game, with Yura Movsisyan opening the score for the visitors in the 57th minute.
Shakhtar Donetsk's Henrik Mkhitaryan scored the second goal in the 70th before Gevorg Ghazaryan made it 3-0 with 10 minutes to play and 24-year-old Artur Sarkisov concluded the rout in injury time.
With this win Armenia moves to third place with 14 points, 1 point behind Ireland and 4 points behind Russia.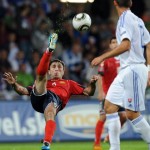 The next round of games on 7 October sees Armenia hosting Macedonia, Slovakia at home to Russia with the Republic of Ireland playing in Andorra.
Four days later, the group concludes with the Ireland's home game against Armenia, Russia hosting Andorra and Slovakia travelling to Macedonia.
Armenia could clinch a place in Euro-2012 if it wins both its remaining games.