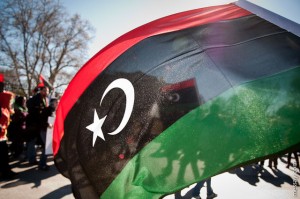 YEREVAN — Armenia has recognized Libya's National Transitional Council (NTC) as the legitimate acting leadership of the country, official Yerevan announced on Friday.
Armenian Foreign Ministry spokesman Tigran Balayan said the Libyan Embassy in France received a letter to that effect from the ministry on Thursday. Balayan gave no other details.
The Armenian government, which has no diplomatic mission in Tripoli, has avoided taking sides throughout the six-month uprising that led to the downfall of Libya's longtime ruler, Colonel Muammar Qaddafi, late last month. Nor has it commented on the NATO military campaign that precipitated the overthrow of his autocratic regime.
Yerevan's announcement came the day after Russia joined the West in recognizing the new Libyan regime. The Russians were previously critical of NATO's air strikes against Qaddafi's forces.
Moscow made the announcement just hours before an international conference on Libya began in Paris.
Unlike in other Arab countries, no organized ethnic Armenian community is known to exist in Libya. Only several citizens of Armenia reportedly lived there when anti-Qaddafi protests broke out in February. All of them were evacuated shortly afterwards.