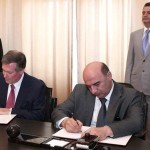 YEREVAN — A Western offshore-registered company pledged on Wednesday to explore Armenia's untapped deposits of shale gas, a new and increasingly important source of energy, and possibly attract foreign investment in their commercial exploitation.
A top executive of the company, International Minerals and Mines (IMM), signed a relevant memorandum of understanding with Energy Minister Armen Movsisian in Yerevan.
The development came two months after a similar agreement signed by the Armenian and U.S. governments. It calls for a "cooperative assessment and technical studies" of Armenia's shale gas resources to be conducted by Movsisian's ministry and the U.S. Geological Survey, a government agency.
In a written statement, the Armenian government said IMM plans to "fully explore and develop shale fuel reserves existing in our country." It said the company will do that through a recently established subsidiary called IMM Energy Armenia.
The statement did not specify any time frames or other details of the exploratory work. Prime Minister Tigran Sarkisian, who was present at the signing ceremony, was cited as stressing the importance of the deal.
According to corporate records available on the Internet, both IMM and IMM Energy Armenia were registered in the Isle of Man, a British-run tax haven, as recently as on June 16.
The U.S.-Armenian memorandum on shale exploration was also signed in June. The Armenian Ministry of Energy and Natural Resources said at the time that the two sides will not only gauge the feasibility of shale mining in Armenia but possibly devise "investment projects" for that purpose.
The ministry added that the agreement is the result of an international conference on shale gas that was hosted by the U.S. State Department in August 2010. It said U.S. officials offered exploration grants to government representatives from Armenia and about two dozen other countries that attended the three-day forum.
"The organizers … noted the readiness of the U.S. government and companies to make investments in those countries," read a ministry statement issued on June 2.
Shale has become an increasingly important source of natural gas in the United States over the past decade. Shale gas industries have also emerged in Europe and China.
The world's vast reserves of the sedimentary rock have led some analysts to suggest that shale gas will eventually become a real alternative to depleting energy resources such as conventional gas and oil.