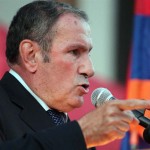 YEREVAN — Opposition leader Levon Ter-Petrosian reaffirmed late on Tuesday his September deadline for Armenia's political leadership to call early elections or face a new wave of street protests by his Armenian National Congress (HAK).
"The Armenian National Congress (HAK) is determined to do everything it can, within the bounds of law, to ensure the maximum consolidation and mobilization of the people in the autumn and to force the authorities to hold pre-term elections under pressure from the masses," he told several thousand supporters demonstrating in Yerevan's Liberty Square.
"If the authorities don't finally make a choice on the conduct of pre-term elections in the next one or two months, then the reasonable time frame will be deemed expired in September and only one demand will remain on our agenda. Namely, the unconditional resignation of Serzh Sarkisian and the ruling coalition," Ter-Petrosian said, repeating a warning issued by him at the previous HAK rally held on June 30.
"I have no doubts that September and October will see a serious breakthrough or a final clarification in the overcoming of the political crisis in Armenia," he added in a 40-minute speech.
Levon Zurabian, Ter-Petrosian's right-hand man coordinating the HAK's day-to-day activities, likewise warned the Armenian authorities that they risk provoking this fall "a wave of popular indignation that you haven't seen yet." He said earlier that the opposition bloc is ready to stage non-stop anti-government demonstrations.
Sarkisian and other senior figures in his three-party governing coalition have repeatedly ruled out the holding of snap presidential and parliamentary elections. They say that Armenia's next parliamentary and presidential elections will take place as planned in 2012 and 2013 respectively.
Still, they agreed last month to discuss the matter in the ongoing talks with the HAK. Delegations representing the two sides have since held two rounds of meetings. They are expected to meet again later this week.
While describing this dialogue as a "big victory" for the HAK, Zurabian suggested that the Armenian leadership will wait until September to see just how serious Ter-Petrosian's bloc is about its threats and try to weaken it in the process.
Ter-Petrosian acknowledged on Tuesday that the Sarkisian administration is "still strong" and enjoys international support. He also cited "the indifference of a considerable part of the people."
The HAK leader urged Armenians to display "some determination and civic activity" in the coming months. He concluded the speech with an announcement that the next HAK rally will be held on September 9.