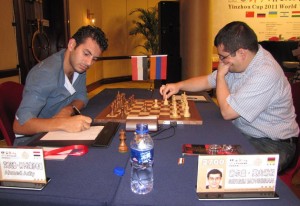 NINGBO, CHINA — Armenia beat Egypt 3.5 – 0.5 in the 4th round of the World Team Chess Championship 2011 in Ningbo, China to move to first place in the ranking.
The only clear thing about the rankings is that Armenia leads…barely. After that it is a giant jumble with no fewer than four teams tied for second. In a normal round-robin, such parity would usually be accompanied by a crosstable filled withy draws, but in this elite team event, it has been a constant strike and counterstrike with teams winning, then losing, rinse and repeat.
The biggest news of the day was Russia's crushing loss to Azerbaijan. Though the Azerbaijan team was certainly strong enough to defeat the Russians, one hardly expect to read about a 3-1 victory over a team fielding players such as Karjakin, Grischuk, Nepomniachtchi and Svidler.
In other pairings, Ukraine lost to Hungary 1.5-2.5, China triumphed over U.S. Team 3.5-0.5, and India beat Israel 2.5-1.5.
Rank table
1 Armenia 11.0
2 Azerbaijan 9.5
3 China 9.5
4 Russia 9.0
5 Hungary 8.0
6 Ukraine 8.0
7 Israel 7.5
8 India 7.0
9 USA 7.0
10 Egypt 3.5