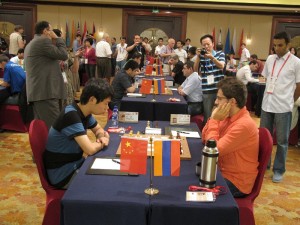 NINGBO, CHINA — On Thursday, in the fifth round of the World Chess Team Championship, thanks to a win by Gabriel Sargsyan and draws by Levon Aronian, Sergey Movsisyan and Vladimir Hakobyan, Armenia beat the host nation China 2.5-1.5.
The latest win (third at the current tournament; Armenia's record also includes a win over Israel, and draws against the USA and Russian teams) and a surprise loss by Russia to Azerbaijan, gives the team coached by Arshak Petrosian eight points and sustains the current top spot in the tournament standings.
Armenia's remaining opponents are Azerbaijan, Hungary, Ukraine, and India.