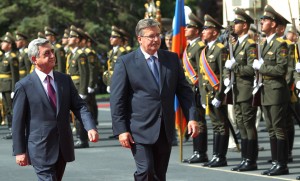 YEREVAN — During his official visit to Armenia, President Bronislaw Komorowski of Poland visited Tsitsernakaberd Memorial and laid a wreath honoring the one and a half million victims of the Armenian Genocide
Besides laying a wreath, the Polish president planted a symbolic tree in the so-called Memory Lane of the memorial complex in Yerevan, the Armenian capital.
"You can find many friends of Armenia in Poland and that is the consequence of our rich historical heritage and centuries-old positive relations between our countries," President Komorowski said. "Thefore, nowadays we want to be as close to Armenia as possible and are always happy to promote our relations." He added.
After his offcial meetings, President Komorowski voiced support on for Armenia's membership of the European Union.
"Poland supports actions aimed at Armenia's membership in the European Union, and that is why it is very important to facilitate and support those decisions that will really further Armenia's EU accession process," Komorowski said after talks with President Serzh Sarkisian
"We are ready to share with you both negative and positive experience that we have gained during our difficult path to EU membership," he told journalists.
Yerevan was the lat stop of his tour of the three South Caucasus states.