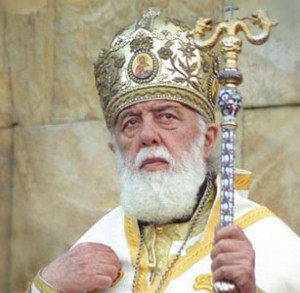 TBILISI — Patriarch of Georgia Ilia the Second has called on the parliament to stop the amendments into the Civil Code that will see giving some religious units the status of legal entities in the country.
"We think it is necessary to stop the procedure of adopting the law – the second and the third hearings and to hold public debates on the issue, at least TV live debates, to establish common public opinion and achieve consensus with Orthodox Church, as majority of the country's population are Orthodox Christians," a statement by Ilia the Second was quoted by the Georgian Interpressnews.ge agency as saying.
"We remind our citizens that the issues are of utmost importance, as it determines the main principles of forming the state", it added.
Last Friday the Parliament of Georgia adopted, in the first reading, amendments to the Civil Code that have long been sought by the country's religious groups, including the local diocese of the Armenian Apostolic Church. Under the amendments, the Armenian Apostolic Church, the Roman Catholic Church, the Evangelical Baptist Church, the Muslim and Jewish communities in Georgia will have the right to be registered as legal entities of public law.
"The Church has never been against and has always been supportive of giving status to other religions in Georgia and their rights, but the government didn't set up a state commission to study the issue", the patriarch's statement added.
Further, it noted that the issues of taking care of Georgian temples or giving status to the Georgian Church have not been raised in other states.
The move initiated by Georgia's ruling party lawmakers came about two weeks after the issue was high on the agenda of talks between the Armenian and Georgian church leaders as Catholicos of All Armenians Karekin II paid a pontifical visit to Georgia. However, contrary to expectations, no document in that regard was signed between the Armenian supreme patriarch and his Georgian counterpart.
Patriarch Ilia II then said that the Georgian Church in Armenia should have the same status as the Armenian Church would have in Georgia.