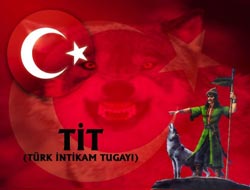 ISTANBUL — Turkish Revenge Brigade, a Turkish fascist group, sent a letter to the Evrensel newspaper calling on Armenians, Kurds and some Turkish activists to leave the country by August 15, otherwise they will take actions.
In an open letter Turkish fascists voiced threats against Evrensel and Agos newspapers' staff, Baskin Oran who is one of the initiators of "Forgive Us, Armenians" campaign, Kurdish MP Sebahat Tuncel, Ahmet Turk and Mayor of Deyarbakir Oman Baydemir.
The letter says Armenian Diaspora and its advocates should leave Turkey.
Editor of Evrensel newspaper Fatih Polat issued a statement saying Premier Erdogan's party will be responsible for the consequences.
Turkish activist Baskin Oran has also recently received threats from Turkish Revenge Brigade. It was found out that the letter was sent by a policeman serving at the Istanbul police department.