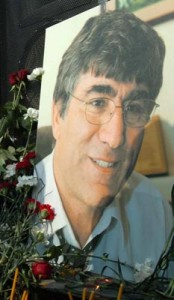 ISTANBUL — A Turkish court on Thursday sentenced six military officers to up to six months' prison, in connection with the murder of prominent Turkish-Armenian journalist Hrant Dink, the semi-official Anatolia Agency reported.
Dink, the editor-in-chief of bilingual Armenian-Turkish newspaper Agos, was gunned down in front of his office in Istanbul on January 19, 2007.
The former gendarmerie commander for the Black Sea city of Trabzon and a captain who was chief of intelligence in the provincial gendarmerie were each sentenced to six months in prison.
Four other officers received prison sentences of four months each, while two were acquitted.
The Trabzon court convicted the officers of negligence in preventing Dink's murder, by ignoring intelligence pertaining to a plot to kill the outspoken journalist.
Ogun Samast, a then-17-year-old youth from Trabzon who has confessed to the shooting, is currently on trial for the murder.
Samast is alleged to have been recruited by a group that had been plotting to kill Dink for up to a year beforehand.
In addition to suspicious links between the suspects and security institutions, lawyers representing the Dink family at various times have accused the police of destroying vital evidence and concealing crucial information from the court and the prosecution.
Dink family lawyers said the Trabzon suspects had had prior knowledge about a plot to kill Dink since July 2006 but had failed to take the necessary measures, suggesting that they had personal relations with the suspects in Dink's murder, the trial for which is continuing at Istanbul's 14th High Criminal Court.
In September, the European Court of Human Rights (ECHR) ruled that the Turkish state had failed to protect Dink's life and his freedom of expression and ordered the government to pay compensation to his family.