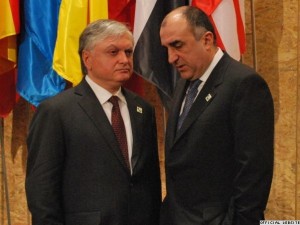 MOSCOW — Armenia and Azerbaijan reported significant progress towards the resolution of the Nagorno-Karabakh conflict following a meeting of their foreign ministers held in Moscow on Saturday.
"Following the discussions, the sides managed to bring their positions closer on a number of issues of the Basic Principles of the Karabakh settlement. The draft of the given document will be presented at the regular trilateral summit in late June," the Armenian Foreign Ministry said following the June 11 meeting in Moscow of Minister Edward Nalbandyan with his Azerbaijani counterpart Elmar Mammadyarov, hosted by Russia's chief diplomat Sergei Lavrov.
The Azerbaijani Embassy in Russia issued a virtually identical statement cited by Azerbaijani news agencies. Neither side specified the issues that were reportedly agreed upon by Nalbandian and Mammadyarov.
The two ministers met in Moscow just days after U.S., Russian and French diplomats co-chairing the OSCE Minsk Group ended yet another tour of the conflict zone. The co-chairs' talks in Baku, Stepanakert and Yerevan in turn followed a joint statement on the Karabakh dispute issued by the U.S., Russian and French presidents.
The three leaders urged their Armenian and Azerbaijani counterparts to finalize the basic principles, drafted by the three mediating powers, at their next meeting. It is due to be hosted by Russian President Dmitry Medvedev in Kazan, Russia on June 25. The international negotiators also called upon the parties "to avoid any provocative actions or statements that might undermine the negotiating process during this critical period."
Earlier, in May, the leaders of the three mediating powers issued a joint statement from the G8 summit in France urging the presidents of Armenia and Azerbaijan "to demonstrate their political will by finalizing the Basic Principles of settlement during their upcoming summit in June."
The Armenian-Azerbaijani summit is due to be hosted by Russian President Dmitry Medvedev in Kazan, Russia, on June 25.