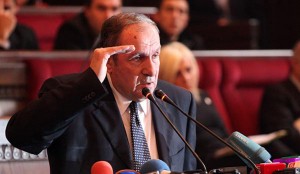 YEREVAN — Ending months of speculation about his political future, Levon Ter-Petrosian, Armenia's first president, announced on Tuesday that he will not make another bid to return to power in next February's presidential election.
In an interview with the "Chorrord Inknishkhanutyun" daily, Ter-Petrosian did not voice support for any other presidential candidate. Nor did his Armenian National Congress (ANC) alliance immediately make any statements on its election-related plans.
The ANC leader, who will turn 68 on January 9, cited his age as the main reason for his decision not to run in the election. "As far as I know, so far nobody has raised the question of whether a person respecting their own people can aspire to the post of president at the age of 68," he said. "Such a thing usually does not happen in developed democratic countries."
"Whatever you say, a 68-year-old person cannot be as energetic and prolific as those aged between 40 and 60, which is probably the optimal age for politicians aspiring to the post of president. Therefore, individuals younger than me should enter the arena," he told the pro-ANC paper.
Ter-Petrosian said there is also another "insignificant and purely technical reason" for his decision. "But I don't want to disclose it because very few will believe in it in our cynical reality," he said.
Ter-Petrosian added that his withdrawal from the presidential race, anticipated by observers, will upset many of his supporters. "But I am sure that some time later my supporters will realize that my decision was honest and right," he said.
Speaking to "Chorrord Inknishkhanutyun," Ter-Petrosian branded Armenia's political leadership "a bunch of criminals who seized power" and promised to comment on "all important issues preoccupying the society" after the presidential election. It was not clear, however, whether he will resign as ANC leader and leave the political arena altogether.