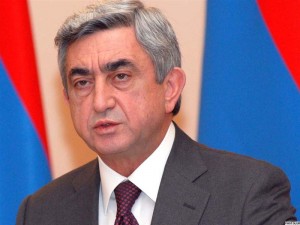 YEREVAN — President Serzh Sarkisian has formally asked the Armenian parliament to declare a general amnesty, a move which is expected to lead to the release of all remaining Armenian opposition political prisons.
In a short statement today, Sarkisian's office said the amnesty would be dedicated to the 20th anniversary of Armenia's independence to be celebrated in September.
Under a relevant bill drafted by Sarkisian's staff, some 400 convicts will be freed while about 2,000 others will have their prison sentences shortened. Other details of the proposed amnesty are not yet known. It did not specify which prisoners will be eligible for early release.
Six prominent Armenian oppositionists are still behind bars. Sarkisian hinted at their impending release as he made a number of concessions to Ter-Petrosian's Armenian National Congress (HAK) late last month.
Those concessions included the lifting of a de facto government ban on opposition rallies in a key Yerevan square and a renewed investigation into the March 2008 deadly clashes between security forces and Ter-Petrosian supporters demanding the rerun of a disputed presidential election.