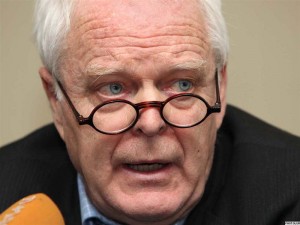 Thomas Hammarberg, the Council of Europe's commissioner for human rights, on Monday urged the Armenian authorities to free all opposition political prisoners and properly investigate the March 2008 unrest in Yerevan.
In a report on his fact-finding visit to Armenia last January, Hammarberg said he remains concerned about the fate of the jailed loyalists of opposition leader Levon Ter-Petrosian who were imprisoned in 2008. He praised the authorities for releasing three of these oppositionists after his trip.
Serzh Sarkisian has signaled the impending release of the other political prisoners. Responding to opposition demands, he also ordered Armenian law-enforcement bodies to conduct a more thorough investigation of the 2008 deadly clashes between security forces and opposition protesters.
Hammarberg welcomed that order. He reiterated his view that the use of force against the protesters demanding a rerun of a disputed presidential election was "excessive" and that the official investigation into the ten unrest deaths "has not been effective" so far.
"None of the perpetrators have been identified to date," argued the Council of Europe official. "Command responsibility of senior officials within the police and the security services appears not to have been seriously considered."
"The Armenian authorities should pursue vigorously these investigations and bring all those responsible to account. The families of the ten victims should receive adequate compensation for the loss of their relatives and should be fully associated to and informed about the investigation," he said.