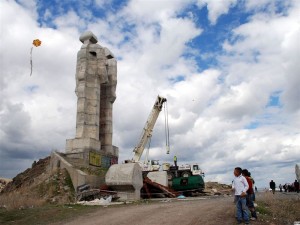 By Daisy Sindelar
RFE/RL
Demolition work has begun on the divisive Monument to Humanity in the Turkish city of Kars. The 30-meter-high monument, also known as the Turkish-Armenian friendship statue, had a powerful enemy in Turkish Prime Minister Recep Tayyip Erdogan, who denounced the work — which depicts two faceless figures reaching out to each other — as "freakish" and an affront to a nearby Islamic shrine.
Turkey's "Hurriyet" daily has reported that a Turkish construction firm secured the coveted $180,000 contract to tear down the monument and has already succeeded in removing the 19-ton head of one of the figures after a wobbly start involving snapped cables and a search for a truck large enough to transport the offending head to a secluded storage site.
A spokesman for the Kars municipality stressed there would be no reversal of the decision, noting somewhat officiously that the contract stipulates the demolition must not only be started but finished, and that "work should be done according to contract." The sectional dismantling is set to continue, with workers cutting the statues into 18 removable pieces. The work is expected to last 10 days.
Global aesthetes appear to agree that the demolition is no great loss. (The Huffington Post used the occasion of the demolition to rank it among the world's ugliest monuments, together with Moscow's Peter the Great statue and a likeness of Sylvester Stallone as boxer Rocky Balboa in Zitiste, Serbia.)
But the friendship monument, which began being erected in 2006, has impassioned defenders — including the Turkish painter Bedri Baykam, who was stabbed by an assailant after denouncing plants to tear down the statue, which he called a rare symbol of dialogue between Turkey and Armenia.
Naif Alibeyoglu, the former Kars mayor who approved the original construction of the monument at a time of warming Turkish-Armenian ties, said the municipality was not destroying the Monument to Humanity but humanity itself. And the sculptor himself, Mehmet Aksoy, told RFE/RL's Armenian Service that the move is little more than a vote-winning ploy by Erdogan's Justice and Development Party ahead of general elections this summer.
The demolition is seen as casting a pall over reconciliation efforts. But there are still signs of change. The destruction of the statue comes just days after hundreds of Turkish intellectuals and human rights activists gathered in central Istanbul to remember the mass killings of Armenians in the Ottoman Empire nearly a century ago — only the second such commemoration in Turkey's largest city.