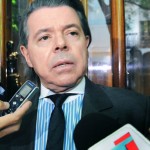 BUENOS AIRES — The Armenian community of Argentina expressed satisfaction and thanked the Argentine justice for the court decision that confirms the Turkish government committed the crime of genocide against the Armenian people between 1915 and 1923.
Around 1,000 people, including Armenia's Ambassador to Argentina Vladimir Karmirshalyan, foreign diplomats, clergy and representatives of human rights organizations, were present at an event at the Armenian Apostolic church, where federal judge Norberto Oyarbide declared his judgment was based on archive documents stored in Germany, Belgium, Vatican and other countries.
.A letter of assistance by Argentine President Cristina Kirchner was read at the ceremony. It mentioned that the court decision of no historic precedent.
"This decision will enable all Armenians affected by the Genocide to present demands to the Turkish state, thus lifting Armenia's burden," stated Argentinean businessman of Armenian origin Eduardo Ernekian.
We should not be concerned over others' attitude towards this crime, Ernekian told RFE/RL. However, judgment made by independent institution after 10-year investigation is important.
Ernekian considers the decision of Argentine judge should serve as a basis for making similiar judgments in other countries.