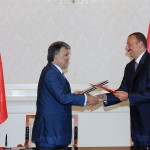 ISTANBUL — Turkey could provide military assistance to Azerbaijan in case of renewed Armenian-Azerbaijani war for Nagorno-Karabakh, a Turkish official reportedly said on Monday.
"Turkey doesn't want a military conflict in the region. But if a war breaks out in connection with the resolution of the Nagorno-Karabakh conflict, provision of military assistance by Turkey to Azerbaijan should not be excluded," Bulent Aras, head of a Turkish Foreign Ministry think-tank, was quoted by the Trend news agency as telling journalists in Baku.
Aras did not specify what concrete forms Turkish military aid to Baku might take.
An agreement signed by the Turkish and Azerbaijani presidents last August commits the two allied nations to using "all available possibilities" to help one another in the event of aggression by third states. It also calls for closer cooperation between their armed forces and defense industries.
The deal was signed in Baku just days before Armenia and Russia agreed to further deepen their militaries ties.
A new defense pact signed during Russian President Dmitry Medvedev's state visit to Yerevan extended and upgraded the mission of Russian troops stationed in Armenia. Moscow also pledged to supply the Armenian military with modern weaponry.