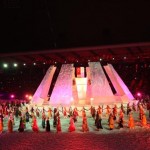 ISTANBUL — A pyramid decoration resembling the Armenian Genocide Memorial in Tsitsernakabred was used at the opening and closing of the 25th Winter Universiade Games in the Turkish city of Erzurum, held from January 27 to February 6.
According to Nethaber website, the replica of the monument caused a scandal in Turkey.
The head of the provincial office of the Turkish "National Movement Party" said that the decoration used in the stadium during the Winter Games, will be discussed by the party.
According to Zekayi Kayan foreign forces have surely interfered. Kayan was furious that many noticed the resemblance with Tsitsernakaberd and have kept silence.
"Is this decoration a part of the game against Erzurum or is it an art project? If it is an art project, what does it symbolize? We have begun to consider this issue," the Turkish nationalist said.
The organizer of the event Mustafa Erdogan stated that he had never seen the Monument of Tsitsernakaberd and that all the pyramids in the world have the same appearance.