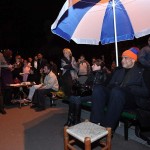 YEREVAN — The Zharangutyun (Heritage) National Assembly deputies engaged in a minor scuffle with police Sunday, when police moved to take down a large umbrella put up over the bench where party leader Raffi Hovannisian is waging a hunger strike in Liberty Square.
MPs Anahit Bakhshian, Larisa Alaverdian. and Zaruhi Postanjian tried to stop police from destroying the umbrella, and claim that police unnecessarily broke it and that the three deputies received minor foot and finger injuries for their efforts.
Bakhshian told ArmeniaNow that over the past three days the party has tried to get permission from police to put up the umbrella as a precaution against rain, but did not receive a reply from Chief of Police Alik Sargsian.
Deputy head of Yerevan Police Robert Melkonian, who executed orders to remove the umbrella, said his men did no wrong, as it is known that "no tent or similar object will be installed there."
Hovannisian is in the seventh day of his "Freedom Fast" hunger strike, in opposition to various actions and policies by the ruling government coalition.

Raffi Hovannisian Criticizes Armenian National Congress and Levon Ter-Petrosian
Meanwhile, Raffi Hovannisian stepped up his criticism of the rival opposition Armenian National Congress (HAK) on Monday, saying that it has stopped demanding President Serzh Sarkisian's resignation.
Speaking to RFE/RL's Armenian service, he questioned the HAK's opposition credentials and suggested that its top leader, former President Levon Ter-Petrosian, may be maintaining confidential contacts with the authorities.
Hovannisian pointed to Ter-Petrosian's speech at the HAK's March 17 rally in which the ex-president did not cite the conduct of snap elections as a precondition for engaging in a dialogue with the Sarkisian administration.
"There has been a softening of, a departure from [the HAK's] demands, and this could be attributed to direct or indirect communication and perhaps a change in tactics," said Hovannisian. "They previously spoke of fresh elections after the resignation of the current president, lectured others on that score, but that resignation [demand] is now gone."
"If we are to measure things with the HAK's old standard that he who doesn't demand the government's resignation is not in opposition, it can be inferred that the HAK itself is not in opposition. I don't have such an opinion yet," he added.
The Zharangutyun leader further claimed that riot police allowed Ter-Petrosian's bloc to rally supporters in Liberty Square for the first time in three years with Sarkisian's prior consent.
Ter-Petrosian and his entourage failed to approach or greet Hovannisian as they led thousands of people into the square last Thursday. Hovannisian described that as a deliberate snub.