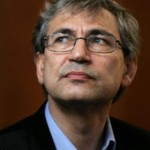 ISTANBUL — Turkish Nobel Prize-winning author Orhan Pamuk has been convicted of "insulting Turkishness" and ordered to pay nearly $4,000 in compensation. He had written in 2005, "The Turks have killed 30,000 Kurds and 1 million Armenians in this land." Pamuk has 15 days to appeal the court decision levying the fine, according to the legal procedures.
Pamuk is Turkey's most prominent writer. He received a Nobel Prize for literature in 2006.
The prominent Turkish writer was sued in 2005 by five people, including lawyer Kemal Kerinçsiz, the head of the Lawyers' Association at the time and currently under arrest in the Ergenekon court case, as well as four other people who are relatives of soldiers killed in action. They accused Pamuk of "having accused all Turkish people." The Sisli court in Istanbul initially rejected to hear the case, arguing that "the complainants are simply individuals of the Turkish nation" and thus it was impossible to accept that individual rights had been violated.
Kerinçsiz then appealed the case to the Supreme Court of Appeal, which decided to reject the court decision and thus asked the Sisli court to consider the case once more. After the latter's resistance, the file was sent to the Supreme Court of Appeal's General Committee. The committee decided in 2009 that the case concerned individuals and had to be considered by the court.