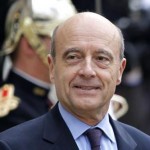 PARIS — Alain Juppe, Minister of Foreign and European Affairs of France, gave assurances that France is making consistent efforts aimed at a peaceful settlement of the Nagorno-Karabakh conflict by means of negotiations. He also stressed that peoples' right to self-determination is a fundamental principle of settling any conflict.
The French minister was responding to question from MP Francois Rochebloine, a member of the France-Armenia friendship group. Who stated in his question-remark:
Nagorno-Karabakh, against its population's will, was made part of Azerbaijan by the Communist Party of the Soviet Union. After the Soviet Union collapsed, Nagorno- Karabakh gained freedom at the cost of great suffering.
However, he stressed, the OSCE Minsk Group denies Nagorno-Karabakh the right to participate in the peace process.
The French MP believes that Nagorno-Karabakh's status must be based on peoples' right to self-determination.
Francois Rochebloine pointed out that Nagorno-Karabakh President Bako Sahakyan visited the National Assembly of France to inform the French MPs of what he expects of France in the context of Nagorno-Karabakh peace process. The French MP stressed that a threat of war remains, pointing out regular violations of ceasefire on the line of contact.
In his reply Alain Juppe stated that the negotiation format has been evolving in the course of time. The Nagorno-Karabakh authorities are actually not participating in the negotiations as no state has recognized the self-proclaimed independence.
The French Foreign Minister pointed out that the French, U.S. and Russian Presidents, at the G8 Summits in Muskoka and L'Aquila, have pointed out the principles on which the settlement of the Nagorno-Karabakh conflict must be based on.