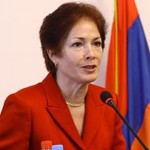 YEREVAN (RFE/RL) — Marie Yovanovitch, the U.S. ambassador in Yerevan, on Thursday repeated her emphatic calls for Armenia's democratization, saying that they are in tune with the Armenian constitution and President Serzh Sarkisian's public statements.
In an interview with RFE/RL's Armenian service, Yovanovitch argued that the rule of law, democratic elections and civil rights are enshrined in the constitution. "Those are the rights of the Armenian people, as written in your constitution," she said.
The diplomat again referred to a December speech in which Sarkisian called for a "consistent introduction of European standards into all areas of our state, public and economic lives."
In that speech, the president also warned that Armenia's existing political order could lead to "stagnation" without a "deepening of democracy."
"He is the president of the country, and we certainly agree with that kind of prescription," Yovanovitch said.
Yovanovitch also stood by her view, expressed in a February 28 speech at Yerevan State University, that the monopolization of political authority and economic resources is harmful for the country.
"If you have only one source of ideas, decision-making, resources, inevitably you're going to be stale and stagnant … We think that's true on the economic side, we think it's also true on the political side," she said.
Armenia, continued Yovanovitch, should therefore have a transparent government that is "listening to the people and is accountable to the people." "We think those governments in countries are really the strongest and make the best partners for the United States," she stressed.