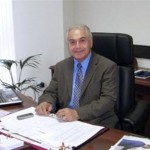 YEREVAN — A U.S. businessman of Armenian descent who until recently worked as an adviser to Prime Minister Tigran Sarkisian was arrested on Wednesday on sex abuse charges stemming from media reports that implicated him in pedophilia.
Armenia's National Security Service told RFE/RL's Armenian service that Serop Der-Boghossian, the owner of a mining company based in the northern town of Akhtala, was formally charged with "coercing" other individuals into having sex with him. The accusation carries heavy fines and up to three years' imprisonment.
In a separate statement, the Office of the Prosecutor-General alleged that Der-Boghossian engaged in homosexual contacts with Akhtala teenagers in 2009-2010 in return for cash and other "material assistance."
The Yerevan newspaper "Hetq" made similar allegations in an article published on January 31. The paper said one of the young men has threatened to publicize purported video evidence of their sexual relationship if Der-Boghossian does not pay him $30,000. Speaking to RFE/RL's Armenian service, Der-Boghossian accused the man of blackmail and dismissed the sex allegations.
Der-Boghossian, whose Metal Prince company is the small town's main employer, reiterated the denial in a written statement issued on February 3. He said unnamed individuals are now trying to discredit him in an effort to seize his company. The U.S.-Armenian businessman said he will ask law-enforcement bodies to identify "the masterminds and authors of the buffoonery organized against me."
The allegations were taken seriously by the Armenian authorities. A senior prosecutor, Artur Ghambarian, last week urged law-enforcement authorities in Yerevan to take over an inquiry launched by the local police.
Prime Minister Sarkisian also expressed serious concern at the scandal on February 2, saying that the inquiry will be "speedy, comprehensive and transparent."
Der-Boghossian was listed as an adviser to Sarkisian on the Armenian government's website until January 31. But according to the prime minister's office, the Metal Prince owner stopped working for the government on December 31 for reasons unrelated to the scandal.
Article 140 of the Armenian Criminal Code, under which Der-Boghossian is prosecuted, refers to sex crimes committed against persons of all ages. The NSS did not invoke the code's Article 141 which deals with child molestation and sexual harassment of minors. It carries fines and prison sentences of up to two years.
Ghambarian called for a toughening of the punishment for underage sex abuse two days after the publication of the "Hetq" article.
According to Armenia's Judicial Department, over the past decade, about 100 underage Armenians have fallen victim to instances of pedophilia investigated by law-enforcement authorities. Ghambarian said that the real number of such victims may be higher.