STEPANAKERT — Thousands rallied at Stepanakert's Revival Square on the 30th anniversary of the Artsakh National-Liberation Movement on Tuesday.
Artsakh President Bako Sahakian, Second President Arkady Ghoukasian, Primate of the Artsakh Diocese of the Armenian Apostolic Church Archbishop Barkev Martirosian, Artsakh Movement veterans, high-ranking state officials, representatives from Armenia and the Diaspora, foreign guests were present at the event.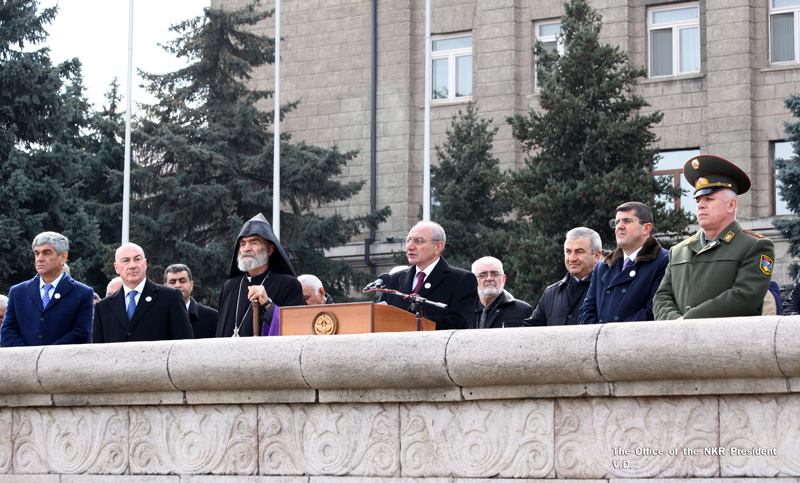 Addressing the gathering, President Bako Sahakyan said: "The year of 1988 was a turning point in the history of the Armenian nation. Three decades ago these days the entire Armenian nation joined forces, doubled their fist, alerting the whole world of their readiness to struggle for living free and secure in their Fatherland.
This nationwide outburst was a dare given to tyranny, persecutions, gross violations and abuses of human rights, all the scourges, which our people had undergone over the course of their centuries-old history. And the movement was wreathed with the restoration of the independent Armenian statehood.
Being under alien and artificially-created Azerbaijan's yoke against its will Artsakh was condemned to extermination and death. The same fate befell Nakhijevan, other historical Armenian regions annexed to Azerbaijan. Numerous ethnic minorities in that country were forcibly assimilated and disappeared from the stage of history.
We had no alternative and were never reconciled to captivity, making numerous attempts to throw off the foreign yoke. It is worth quoting world famous academician Andrei Sakharov who said in his time that for the Armenians this struggle was a matter of life and death, for Azerbaijan – just a matter of ambition.
Notwithstanding all this, the Artsakh Movement is one of the exceptional examples of national-liberation struggles that adopted the policy of restoring historical justice and violated human rights through civilized and peaceful means, in strict compliance with international norms and rules.
The adversary must always know that the language of force is doomed to failure. Our people, our army and the whole Armenian people will give a worthy counter-stroke to every encroachment that threatens our freedom and security".