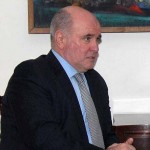 YEREVAN — A high-ranking Russian diplomat discussed the unresolved Nagorno-Karabakh conflict and Russian-Armenian relations with Foreign Minister Edward during a visit to Yerevan on Monday.
The Armenian Foreign Ministry said Russia's Deputy Foreign Minister Grigory Karasin arrived in Armenia for regular consultations held by the two countries' top diplomats.
"A broad range of issues relating to the further development of the Armenia-Russia strategic partnership and allied relationship was discussed at the meeting," the ministry said in a statement.
According to the statement, Nalbandian and Karasin reviewed the implementation of recent agreements reached by Yerevan and Moscow. One of those agreements, signed during Russian President Dmitry Medvedev's August 2010 visit to Armenia, is meant to deepen the already close military ties between the two nations.
The statement added that the two men also "exchanged thoughts" on the current state of international efforts to broker a peaceful settlement of the Karabakh conflict. It gave no details.
Russia has taken center stage in the Karabakh negotiating process, with Medvedev hosting three face-to-face talks between his Armenian and Azerbaijani counterparts in the course of last year. Similar trilateral meetings are also regularly held by the Armenian, Azerbaijani and Russian foreign ministers.
Russia's ambassador to the OSCE headquarters in Vienna, Anvar Azimov, was quoted by the Itar-Tass news agency as saying last week that Medvedev could soon organize another Armenian-Azerbaijani summit.