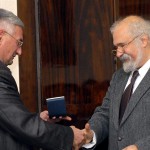 YEREVAN — Ragip Zarakolu, a prominent Turkish human rights campaigner and book publisher, was honored by Armenia's National Library on Tuesday for his long-running advocacy of Turkey's recognition of the 1915 Armenian genocide in the Ottoman Empire.
The director of the state-funded library, Davit Sargsian, paid tribute to Zarakolu's decades-long activism as he handed a medal to the owner of the Istanbul-based Belge publishing house. Sargsian also thanked him for donating dozens of books to Armenia's largest library.
"We are talking about an individual committed to the ideas of humanism," Sargsian said at a ceremony in Yerevan. "Unfortunately, he is not a desirable figure in modern-day Turkey because of his activities, principles and thinking."
"This is the most important award of my life," Zarakolu said in a short speech.
Zarakolu rose to prominence in the 1970s as a newspaper columnist and editor highlighting human rights abuses committed in Turkey. He was twice imprisoned by military governments in Ankara before founding, together with other prominent Turks, the Human Rights Association of Turkey in 1986.
Around that time, Belge began publishing books on taboo subjects such as the World War One-era mass killings and deportations of Armenians in Ottoman Turkey. It has since translated into Turkish more than a dozen books by Diaspora Armenian authors challenging the official Turkish version of those events.
At least two of those translations landed Zarakolu in court. A Turkish court ruled in June 2008 that the publication of one of those books, written by the British-Armenian author George Jerjian, insulted "the institutions of the Turkish Republic." The publisher received a suspended five-month prison sentence.
Speaking at a news conference in Yerevan, Zarakolu reaffirmed his belief that the slaughter of more than one million Ottoman Armenians was a genocide that must be officially recognized by the Turkish state. "Recognition of the Armenian genocide would not humiliate Turkey," he said. "On the contrary, that would make it greater."