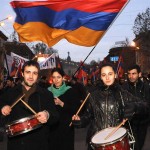 YEREVAN (RFE/RL) — The Armenian National Congress (HAK) might defy a government ban and lead supporters to Yerevan's Liberty Square during its next rally scheduled for March 1, according to a leading member of the opposition alliance.
The pedestrian square was the scene of massive demonstrations organized by HAK leader Levon Ter-Petrosian in the wake of Armenia's February 2008 presidential election. It has been effectively off limits to the alliance since the March 2008 suppression of those protests.
Over the past year the Yerevan municipality has turned down numerous requests to allow the HAK to rally supporters in Liberty Square. Citing children's concerts held there on a daily basis, the municipality said on Monday the HAK will only be allowed to hold the March 1 in another location in downtown Yerevan facing the Matenadaran institute of ancient Armenian manuscripts. It also sanctioned a traditional opposition march through the city center.
Levon Zurabian, the HAK's central office coordinator, told RFE/RL's Armenian service that the HAK will tell supporters to gather outside the Matenadaran on March 1. "We can't come to terms with that [ban on Liberty Square gatherings,] and as soon as we feel that the right moment has come, we will definitely enter Liberty Square," he said.
Asked whether that could happen during the upcoming HAK protest, Zurabian said, "It could happen at any moment."
Addressing thousands of people attending the last HAK rally on Friday, Ter-Petrosian warned the Armenian government to hold snap elections or face the kind of popular revolt that has rocked Tunisia, Egypt and other Arab states. Zurabian, for his part, told the crowd to get ready for "serious events."
Speaking to RFE/RL, Zurabian would not be drawn on whether that means the HAK is planning to launch a campaign of non-stop street protests in Yerevan. "We want the authorities to understand that if they don't accept that option, then they will … clear the way for a popular revolt with their own hands," he said.
The HAK coordinator, who is a close associate of Ter-Petrosian, also made clear that the opposition bloc will not negotiate with President Serzh Sarkisian until the release of all of its loyalists remaining in prison.