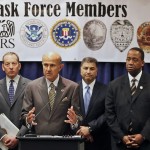 GLENDALE (Reuters) — More than 70 reputed members and associates of the Armenian Power street gang were arrested on Wednesday in a state and federal crackdown targeting organized crime, authorities said.
The arrests stem from two federal indictments and state cases that charge a total of more than 100 defendants with crimes including kidnapping, extortion, bank fraud and narcotics trafficking.
Among the accusations are that Armenian Power members installed "skimming devices" at cash registers of 99 Cents Only stores and stole customers' information to create counterfeit credit and debit card accounts, officials said.
"The indictments targeting Armenian Power provide a window into a group that appears willing to do everything and anything to generate a profit," U.S. Attorney Andre Birotte Jr said.
Southern California, and particularly the Los Angeles bedroom community of Glendale, comprises the largest diaspora Armenian community in the United States and the second largest in the world, behind Moscow.
Most of the defendants are in California, but authorities also charged more than a dozen individuals from other states.
Birotte said Armenian Power is unlike other criminal organizations such as the Italian Mafia, in that there is no single leadership cadre.
'THIEVES IN-LAW'
The group has senior criminals nicknamed "thieves in-law" associated with the gang who help coordinate Armenian Power's criminal activities in the United States with actions by criminal groups in Russia, Georgia and Armenia, Birotte said.
"Their alleged ties transcend prison walls and international borders, reaching all the way back to the former Soviet bloc," Breuer said.
But Armenian Power is also broken down into cells with their own leaders, Birotte said.
A racketeering indictment returned three weeks ago by a federal grand jury in Los Angeles charges 70 individuals of conspiracy, kidnapping, extortion, bank fraud, aggravated identity theft, credit card fraud, marijuana distribution and conducting an illegal gambling operation.
A separate indictment returned by a federal grand jury in Orange County, south of Los Angeles, charges 20 individuals in an intricate bank fraud.
Members of Armenian Power are accused of bribing bank insiders to gather information that allowed them to take over bank accounts and cause at least $10 million in losses.
Those involved in the scheme would have the bank send them victims' checks, and use those to clean out their accounts, the indictment alleges. On some occasion, they would wait outside victims' homes to pick up the checks when the mailman delivered them, law enforcement officials said.
Separate from the federal prosecution, the Los Angeles District Attorney charged 11 individuals tied to the group.
Armenian Power started in the 1980s as a common street gang and it numbers about 200 members with ties to black gangs and the Mexican Mafia, officials said.