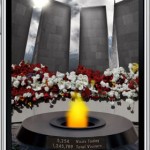 Motion graphic artist Alex Nisanian has started creating the "Armenian Monument," a free iPhone app dedicated to the recognition of the Armenian Genocide
The app will have four basic components: The default page will feature an animated rendition of the eternal flame at the Dzidzernagapert Genocide Memorial in Armenia, with a contemporary beat produced by DJ Bei-Ru using duduk samples. There will also be a history section, covering the 1915-1923 Armenian Genocide, as well as a list of countries that have recognized the crime as genocide. A latest News section will provide app users with breaking developments on Genocide recognition efforts worldwide and give users the ability to share the stories on their social networks. Nisanian describes the app as more than just a tool to inform and educate, but rather a tool to take action on pressing issues in a call-to-action section, "It's designed to get the whole community actively involved towards Genocide awareness and Genocide recognition."
To keep costs low, Nisanian has already designed and animated almost all the graphics necessary, but needs assistance in writing iPhone code for known as Objective-C. Thus Nisanian is utilizing Kickstarter is an online threshold pledge system for funding this endeavor.
The 'Armenian Monument' Kickstarter fund-drive ends on February 27, giving Nisanian less than a month to raise the $3,500 needed to finance the app, with a launching target date of April 24, 2011. People who donate to 'Armenian Monument' on Kickstarter will receive rewards such as commemorative shirts, stickers, and recognition as a contributor within the app and on its blog.
Nisanian says he wants the project to be an open and collaborative effort that engages and benefits the entire Armenian community. "I'm open to suggestions for features, as well for news sources to feature in the 'Latest News' section," he said. The app's news feed is published on ArmenianMonument.com.