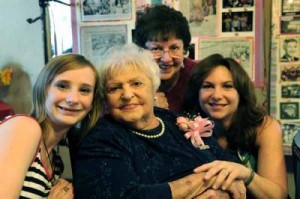 Florence Aramian Tuckman is one of the oldest residence of Glendale city, as she celebrated her 108th birthday on Monday. Born in Philadelphia on Jan. 31, 1903, Florence Aramian worked as an administrator in a hospital for 10 years before she met and married her husband, Leo Tuckman, at age 33.
The couple moved to Glendale where Leo pursued the real estate business while she raised their two children.
Yogurt and happiness may be the ingredients to Tuckman's long life, but her family and friends say it is her personality that keeps her mind sharp and her body agile, able to cope with little arthritis, some osteoperosis and a bout or two of pneumonia.
Read more here.