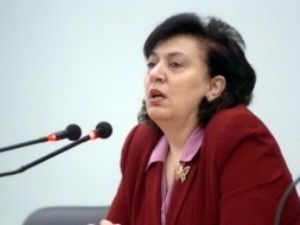 YEREVAN, LOS ANGELES — During a meeting with Americans of Armenian descent in Los Angeles, Diaspora Affairs Minister Hranush Hakobian announcemed that Serzh Sarkisian would like to found a second house of Armenia's parliament where representatives of the worldwide Armenian Diaspora would be able to hold seats.. She reportedly said Sarkisian believes that "certain changes within the governing structure of Armenia are needed to allow Diaspora Armenians to be part of Armenia's government."
Hakobian was quoted as saying that this would take the form of constitutional amendments leading to the establishment of an upper chamber of parliament. Hakobian did not clarify just how its Diaspora members would be elected and whether they would have to be Armenian citizens.
Sarkisian's press secretary, Armen Arzumanian, did not deny this, saying that the president asked prominent Diaspora Armenians to propose ways of boosting Armenia-Diaspora ties at a meeting in Yerevan last May. "This is one of the possible proposals that deserves consideration along with many others," Arzumanian told RFE/RL's Armenian service in a written statement sent later on Monday.
Arzumanian did not specify who is the author of that proposal. He stressed instead that Armenia's constitution can be amended only under "a complex and long procedure." "Naturally, there would have to be public discussions and detailed professional studies for making such a decision," added the presidential spokesman.
The Armenian constitution can only be amended through referendums. Changes in its text must be backed by at least one third of Armenia's 2.4 million eligible voters.
The Armenian authorities already pushed through a long list of constitutional amendments in a 2005 referendum marred by opposition and media allegations of vote rigging. One of those amendments lifted a constitutional ban on dual citizenship. It was meant to strengthen Diaspora Armenians' links with the country of their ancestors.
Who and How Will Diaspora Members be Elected
Several questions are raised in connection with the intention to make the Parliament bicameral involving also representatives of the Diaspora.
1. When is Serzh Sarkisian going to make such a proposal – before or after the 2012 parliamentary election?
2. When will Armenia hold a Constitution Referendum through which the Parliament will have the right to have two chambers – parallel to the 2012 election, on the same day or in the period between the two elections in 2012 and 2013, or after the presidential election?
3. How does Serzh Sarkisian imagine the election of Diaspora members? Who will have the right to run? Who will have the right to vote? What mechanism the election will have? Should the voters and candidates be Armenian citizens? Should the candidates live in Armenia?
4. Will the creation of a second chamber mean that the election of the existing chamber members will be only through a proportional mandate?
The answers to these and other questions will reveal the real goal of the initiative: whether it is aimed to modernize the state management system or the power is just creating another circle of reproduction involving also the Diaspora.