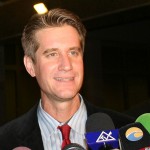 BAKU — Matthew Bryza, the new U.S. ambassador to Azerbaijan, vowed to strengthen ties between the two countries late on Sunday as he arrived in Baku after a grueling congressional confirmation process held up by by Armenian groups in the United States.
"We are sorry it took as long to get here, but as we say in American English, it's better late than never," Bryza said as he and his Turkish-Armenian wife Zeyno Baran carrying their newborn child stepped out of the Baku airport. "It is a great honor to return now to Baku as the United States ambassador to Azerbaijan."
"We so look forward to strengthening the friendship between our two countries and deepening our cooperation to strengthen peace, prosperity and democratic institutions," he told journalists after greeting them in Azerbaijani.
Bryza is due to hand his credentials to Azerbaijani President Ilham Aliyev later this week. He said the ceremony will also be a "great honor" for him.
President Barack Obama announced unilateral "recess appointments" of Bryza and three other U.S. ambassadors in late December after failing to secure their endorsement by the U.S. Senate.
Obama nominated Bryza's candidacy for the vacant ambassadorial post in Baku about a year ago. It met with strong resistance from some Armenian-American groups and their backers in the Senate. Two Democratic senators, Barbara Boxer and Robert Menendez, placed a "hold" on a full Senate vote on the nomination in September.
They said Bryza failed to address their concerns about his alleged pro-Azerbaijani bias in the Nagorno-Karabakh conflict. Menendez claimed that Bryza's "very close personal ties to Turkey and Azerbaijan" compromise his "ability to act as an unbiased representative of the United States in Azerbaijan."
Bryza denied such ties as well as pro-Azerbaijani statements attributed to him in the past during Senate Foreign Relations Committee hearings in July and in his subsequent written answers to some U.S. legislators.
Armenia's government, for its part, has refused to comment on the nomination controversy. Bryza frequently met with Armenian leaders in his previous capacity as deputy assistant secretary of state and the U.S. co-chair of the OSCE Minsk Group on Karabakh.
Bryza, who was the previous U.S. administration's point man on the South Caucasus, also regularly traveled to Karabakh and held talks with its ethnic Armenian leaders, both on his own and together with the group's French and Russian co-chairs. The career diplomat used the territory's Armenian name, Artsakh, when he spoke to RFE/RL's Armenian service before one such trip in April 2009.