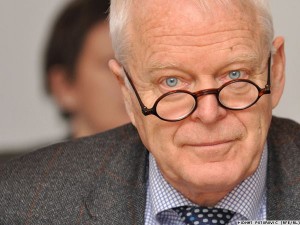 YEREVAN — Thomas Hammarberg, the Council of Europe commissioner for human rights, has met with the most prominent of Armenian opposition members remaining in prison during his continuing fact-finding visit to Armenia.
Hammarberg was allowed to visit on Thursday a prison in the northwestern town of Artik and hold separate meetings with opposition leaders Nikol Pashinian and Harutuyun Urutian who are being kept there.
No details of his conversation with Pashinian were immediately known. The young editor of the opposition daily "Haykakan Zhamanak" is serving a seven-year prison sentence for his alleged role in deadly clashes sparked by Armenia's disputed February 2008 presidential election.
Urutian, who managed opposition candidate Levon Ter-Petrosian's pre-election campaign in the northwestern Shirak region, was sentenced to six years' imprisonment on charges of assaulting a local proxy of Serzh Sarkisian, the disputed election winner.
Urutian told RFE/RL's Armenian service from the Artik prison that Hammarberg spoke with him for about 90 minutes, inquiring about prison conditions and details of the criminal cases against him. Urutian said he stood by his view that he was jailed for political reasons.
On Wednesday, Hammarberg met with another prominent oppositionist, former parliament deputy Sasun Mikaelian, at a prison hospital in Yerevan. Mikaelian has undergone at least two surgeries since being jailed for eight years on charges of organizing the March 2008 violence in Yerevan and illegal arms possession.
More than a hundred Ter-Petrosian loyalists were arrested in the wake of the unrest. The Armenian authorities have gradually freed the vast majority of these individuals, considered by the Armenian opposition political prisoners, under pressure from international governments and bodies, notably the Council of Europe. Nine of them remain behind bars.
Hammarberg expressed concern about the fate of the jailed oppositionists as he began the four-day visit to Armenia on Tuesday. The issue is high on the agenda of the trip, which includes meetings with top government officials, political party leaders and civil society members. He is scheduled to meet President Serzh Sarkisian on Friday.
According to Zaruhi Postanjian, a parliament deputy from the opposition Zharangutyun party, Hammarberg told her and her colleagues Wednesday that the authorities could soon release Mikaelian for health reasons. The oppositionist's sister, Susanna, insisted on that his health condition is "very bad."
Susanna Mikaelian also met with Hammarberg together with relatives of four other jailed oppositionists on Thursday.