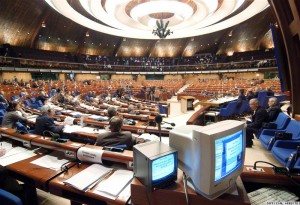 STRASBOURG — The Council of Europe Parliamentary Assembly (PACE) on Wednesday listed Armenia among more than a dozen member states which it said are not fully and promptly complying with rulings handed down by the European Court of Human Rights.
In a resolution adopted at its ongoing session in Strasbourg, the PACE criticized Russia, Turkey, Italy and six other European countries for "extremely worrying delays" in the implementation of court judgments.
"In a number of other states, inter alia, Albania, Armenia, Azerbaijan, Bosnia and Herzegovina, Georgia and Serbia, the issue of non-compliance and solutions to outstanding problems should also be made a priority," reads the resolution.
The document does not specify any instance of such non-compliance or delays in Armenia. It cites instead over a dozen such cases involving other Council of Europe member states.
"This resolution means that with its vicious behavior, Armenia too has occupied its place on this black list of countries who periodically fail to comply with the decisions of the European Court of Human Rights," said Zaruhi Postanjian, an opposition member of the Armenian parliamentary delegation at the PACE.
Speaking to RFE/RL's Armenian service from Strasbourg, Postanjian claimed on Thursday that the assembly faulted Armenia over the European Court's June 2008 ruling on a lawsuit filed by A1+, an independent Armenian TV station that was pulled off the air in 2002.
The Strasbourg-based court fined the Armenian government 20,000 euros ($27,000) for the repeated rejection by a state regulatory body of A1+ bids for a new broadcasting license. But it stopped short of explicitly ordering the authorities to allow A1+ to resume broadcasts.