By Yonca Poyraz Dogan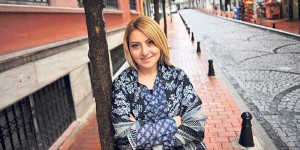 ISTANBUL (TODAY'S ZAMAN) — Ties between Turkish and Armenian people have been improving despite closed borders, thanks to civil society projects, says researcher Alin Ozinian, who is known for her "State of Armenian Irregular Migrants in Turkey" research study.
Ozinian received the Jampruk journalism award on migration issues at the end of last year, announced by the Armenian United Nations Association (AUNA) in the scope of the European Commission's "Reinforcement of Management of Migratory flows in Armenia" project. Her research was conducted in Istanbul, Antalya, Trabzon and Ankara through focus groups and in-depth interviews.
Ozinian, an Armenian from Turkey, emphasized that in addition to the numerous problems that illegal Armenian migrants working in Turkey face, they are adversely affected by being put under the spotlight whenever tensions rise in Armenian-Turkish relations.
In our interview we talked about the state of the irregular Armenian migrants in Turkey and her ongoing work conducted for the Turkish-Armenian Business Development Council (TABDC), where she has been serving as press secretary and regional projects coordinator.
She said that as civil society has been helping to develop ties between the two countries, their research, which is expected to be finalized in April, will identify current and further economic areas of cooperation between the two countries.
– Your extensive research highlighted a big problem. What is the situation of the Armenian migrants in Turkey?
– I started to do this research in the realization that issues regarding illegal Armenian migrants come to the agenda only in the context of political developments, such as when there is talk of opening the border between Turkey and Armenia or when there is a political development in the aftermath of the two countries signing protocols. I wanted the research to highlight the human tragedy of those people being illegal and living in difficult conditions. Even though we emphasized the fact that the situation should be handled independent of political issues, this hasn't been the case. Still, journalists call me to ask whether or not Ankara will deport those people if a genocide resolution passes in the US Congress. The issue is still hostage to political developments.
– One of the problems is in regard to the education of those illegal migrants' children. We haven't seen any steps in that direction, have we?
– No, we haven't. Armenian migrant children do not often continue their education after coming to Turkey, and those born here have no official birth certificates. As there is no Armenian consulate or embassy in Turkey, they are children without identities or a nationality. There is now an underground school in Istanbul where about 70 children are educated by volunteer Armenian teachers. Those children should be able go to the Armenian minority schools in the city.
– What else can be done?
– If Turkey wants those people to stay here, then they can issue work permits to those who have been here for a certain number of years. If Turkey does not want those people here, then it can change its visa regime and can make it more difficult for Armenian citizens to enter Turkey. But the Turkish government has a unique understanding of the issue. For Ankara, it is a good gesture, a show of good will that those migrants are not deported. Those Armenian migrants have become the tools of Turkish foreign policy. The fact that the issue is about human lives has not been considered.
'Number of illegal Armenian workers inflated'
– There also seems to be disagreement regarding the number of illegal Armenian workers in Turkey, right?
-The number has been inflated by Turkish government officials, either by lack of knowledge or misinterpretation. According to official numbers, 6,000 Armenians did not return home after traveling to Turkey between 2000 and 2008. When figures from the 1990s are added to this number, the number of Armenians illegally living in Turkey is not 70,000 to 100,000, as has been asserted, but is actually 8,000 to 10,000. Prime Minister Recep Tayyip Erdogan had said during a speech that the government overlooked the fact that there were nearly 100,000 Armenians living illegally in Turkey. In the past, Turkish foreign ministers and diplomats have also spoken of Armenians living in Turkey numbering around 70,000. Actually, this is the number of Armenians who are Turkish citizens.
– Has Turkey deported any Armenians who work illegally in Turkey?
– Turkey has deported very few Armenians who work here illegally in recent years; only if they have committed a crime outside of working illegally. The crime rate amongst immigrant Armenians is very low.
– Most of those illegal workers probably do not leave the country for a long period of time, right?
– They have different methods of staying here. If they leave the country, they will have a "deported" stamp on their passports because most of them overstay in Turkey. Some of them — mostly women — leave Turkey, get a divorce in Armenia and then come back with a new passport, new name.
– You still continue to work on the issue as far as I know. Are you planning to do more to highlight it?
– I am seeking funds in order to produce a documentary film about the Armenian migrants' lives in Turkey. A visual product might get more attention than a 150-page report.
'The time has come to talk about economic issues between Turkey-Armenia'
– And your work with the TABDC continues. What are you currently working on?
– For some time now, the TABDC has conducted civil society projects, such as student exchange programs, culture, agriculture and art projects, etc., between Turkey and Armenia, trying to promote closeness between the two societies. Indeed, we tried to fill the gap created by the inaction of civil society but it is now time to focus on economic relations. Civil society on both sides is now actively working and both sides are ready to talk about economic issues.
– Would you elaborate on this new research project?
– Our final goal is to identify areas that both Turkish and Armenian businesspeople will benefit from. In the end, companies on both sides will be able to consult with informed people in the areas of cooperation, like tourism and construction. As you know, there is trade between the two countries via Georgia because the border is closed. We will also find out what gains and losses occur because of the closed border.
– Do you have an educated guess in response to that question?
– Our Co-Chairman Kaan Soyak recalled that the Armenian Chamber of Commerce announced the trade volume between the two countries as $300 million in 2009. Noting that the TABDC calculated the trade volume as $150 million, Soyak said that World Bank predicted this figure as $200 million. There is inconsistency regarding the numbers because of indirect and unrecorded trade.
– Turkish analysts often indicate that the trade level between Turkey and Armenia is not really significant in numerical terms, especially for the Turkish side? Do you agree?
– The trade level and its economic benefits between Istanbul and Yerevan may not be so significant, but trade between Kars and Yerevan, and Igdir [Kars and Igdir are eastern provinces of Turkey bordering Armenia] and Yerevan would be significant. Those provinces in Turkey will gain significant benefits from opening the border and trade, as those regions do not have as many quality health facilities and universities as Yerevan does. The tourism sector will see significant gains, too. For Armenians, the triangle of the provinces of Van and Kars in Turkey, and Echmiadzin in Armenia, the center of the Armenian Church, are full of treasures. Those areas will attract more visitors once the border is opened. Now people have to fly through Istanbul from Yerevan in order to reach Van or Kars, which border Armenia.
'Turkish officials still don't know Armenians do not celebrate Christmas on Dec. 25'
– In Turkey, Armenians have often been categorized into three groups, the diaspora, Armenians in Turkey and Armenians in Armenia. What do you think about this categorization?
– If we start from Turks' perception of Armenians in Armenia, the reading is: There are those destitute Armenian people who desire to open the border so much that they do not care about the recognition of genocide. Their utmost concern is their economic situation. This is not a true perception of Armenians in general. As we have seen during the signing of the protocols, there is a strong opposition in Armenia to signing protocols with Turkey. In addition, Armenians in Armenia are not as destitute as people here perceive. There is a class conflict and the lack of a middle class, as in other ex-Soviet republics like Georgia and Azerbaijan.
– Diaspora Armenians?
– They have been perceived by Turkish people as bad, the enemies of Turks, politicized and rich. However, diaspora Armenians are not homogeneous and they do not siphon money to Armenia. Indeed, most of them do not see themselves as belonging to Armenia. They attach themselves more to the eastern part of Turkey. Yes, there is enmity against Turks. Their perception of "Turk" is a Turkish soldier who either killed or drove them away from their land. Their resources would have been better used if they helped Armenia develop rather than supporting the passage of genocide resolutions in other countries' parliaments, but they have a right to do that, too.
– And Armenians of Turkey…
– They see themselves as members of the Turkish Republic. It is questionable whether or not they are seen as such in Turkey. Turkish officials still do not know that Armenians do not celebrate Christmas on Dec. 25, and the Armenian community has its own problems. They have been assimilated in large part but have problems regarding freedom of speech.
If we have to make a generalization about all Armenians in the world, we can say that there are probably only a few who do not recognize the genocide.
– What would you say regarding the Armenians' perception of Turks in general?
– I can explain this with a personal anecdote. I was once ill in Armenia in 2004 and I went to a doctor. I showed him the prescription that a Turkish doctor gave me. He was really shocked that I agreed to be seen by a Turkish doctor and that the Turkish doctor had a professional evaluation of my situation, regardless of my background. He couldn't believe that Armenians in Turkey could have a normal life. But recently I heard that an Armenian doctor in Armenia recommended his Turkish colleague living in Turkey to one of my Armenian friends because of his professional qualities. Things are changing.
– Civil society projects between Turkey and Armenia seem to turn those perceptions upside down.
– Perceptions, stereotypes really started to turn upside down because of the work done by civil society. Indeed, even if the border is closed, trade, projects and even love flourish between the two societies. A friend of mine told me that a Turk and an Armenian who met during the course of a European Union project fell in love. Borders cannot put barriers before human feelings.
'There seems to be a lot of excuses for not opening the border'
– Independent of the situation of the illegal Armenian workers here in Turkey, Turkey's problems with Armenia continue. The border is still closed and the protocols that were signed by both countries to normalize their relations haven't been ratified in their parliaments. Do you think the events might change course for better?
– Everything started very nicely regarding the signing of the protocols. And the protocols have been good because they were written in a way that could be interpreted according to the wishes of whoever reads it. Then a regular domestic procedure, sending the protocols for approval to the Constitutional Court, which was necessary in Armenia, led to a series of events. The Armenian government took risks by signing the protocols, and there were domestic political problems when it sent the text to the court for approval — a normal procedural step for ratification of an international agreement, not a precondition as was introduced by Turkish side, and also a positive step for the Turkish-Armenian rapprochement process. The opposition was already critical of the government when it signed the protocols. Therefore, the Constitutional Court had to make a written explanation that the protocols would not harm Armenia's national interests, including the country's efforts for the recognition of genocide. The Armenian government used this explanation to alleviate fears in Armenia, but it was perceived differently in Turkey; it was interpreted by the Turkish officials as something that would harm the process. The aim of this Turkish interpretation was voicing its opinion about the Nagorno-Karabakh issue, which has not been resolved. Turkey, which did not voice this during the signing of the protocols, has apparently brought the issue to the table as a precondition. Even if Armenia did not take the procedure to its top court, the process between the two countries would not have progressed as long as the Karabakh issue was not resolved. There seems to be a lot of excuses for not opening the border.
– This is a situation that also affects Turkey's relations with the United States, which has put big support behind the protocols. Do you expect the issue will come to the fore when the time comes on April 24?
– If the US Congress passes a genocide resolution, we will all be freed. Why is there so much attention given to what the United States Congress does? More than 20 countries, such as France, Argentina, Russia and Greece have passed such resolutions. What has changed? The important thing is what Turkey and the Turkish people are going to do regarding the issue. Turkey and Armenia, and Turks and Armenians, should solve the issue among themselves.