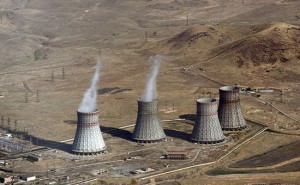 Turkish TV channel NTV reports that Turkish experts have begun observing levels of radiation measurements of radiation in areas bordering with Armenia. According to the report this is due to a possible radiation leak, allegedly occurred at the Armenian Metsamor Nuclear Power Plant. According to the report, experts have begun monitoring radiation levels in the six eastern and southeastern provinces near the border of Armenia.
Armenia's Ministry of Energy and Natural Resources on Monday denied all these rumors. "No radiation leaks exist. The Ministry of Energy and Natural Resources is pleased to announce that the plant is functioning normally and the background radiation is within acceptable limits," – said spokeswoman Lusine Arutyunyan.
The Armenian Metsamor Nuclear Power Plant, the only one in the region, is located near the town for which it bares its Metsamor, approximately 30 kilometers south of the Capital of Armenia; Yerevan. The plant was commissioned in 1980, but operation of the plant was stopped in March 1989, due to the Spitak earthquake of December 1988. The plant was re-launched in November 1995 as a result of an acute energy crisis in the country.
The nuclear power plant is made up of two power stations equipped with the first generation Russian VVER-440 reactor. The first unit is currently shut down. The second block with a capacity of 407.5 MW produces an average of 40% to 50% of all electricity produced in Armenia. According to expert estimates, the station can operate until 2016. The Armenian authorities are pursuing to build a new station at the existing site.